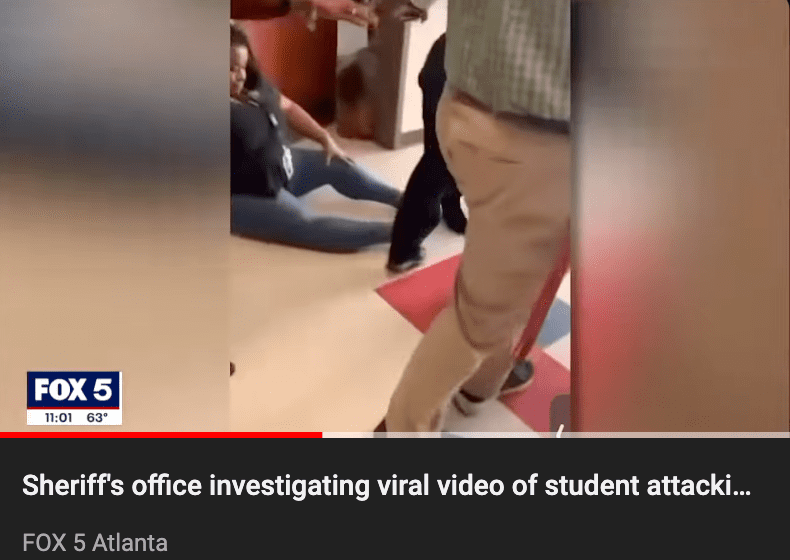 The Rockdale County Sheriff's office in Conyers, Georgia is investigating the viral video of a student attacking a teacher and breaking her leg at Heritage High School.
Reportedly, the hurt teacher will need to go through rehab for her injuries.
The attack happened on January 26, 2023.
The video reveals the student arguing with the teacher inside the class, knocking a phone out of her hand and pressing her.
The teacher appears to leave of the class to go get aid.
The student then knocks the door on the teacher, and the teacher reverses, and a battle occurs.
Watch the video of the student attacking the teacher inside the classroom below:
The battle heads out into the corridor, and the tussle leads to the teacher winding up with a damaged leg.
Georgia Federation of Teachers President Verdaillia Turner states she was outraged when she saw the video on Monday.
She thinks the violence is straight connected to the scarcity of instructors.
There is no reason for the violence. 
There is no reason for kids who are concerning our schools daily and creating chaos so others cannot find out.
When we browse the web and simply google student attacks on instructors we'll see various attacks throughout the nation.
And the city and the state, we remain in a state of emergency situation, and today we require absolutely no tolerance.
A representative for Rockdale County Public Schools launched the following declaration:
RCPS (Rockdale County Public Schools) does not endure student violence towards any employee. Students who hurt other trainees or personnel will be disciplined according to our Student Discipline Code of Conduct and will be properly charged by police. We will abide by workers and student personal privacy laws in this matter.
It is unidentified what disciplinary action the student will deal with, and there is no word on any criminal charges, however the examination is active on continuous.
Watch the FOX 5 Atlanta news report below:
Let me understand your ideas in the remarks listed below, or sign up with the convo on our socials. (Facebook, Instagram).